---
2812-9050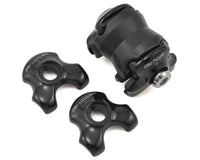 This is a re-engineered clamp with an optimized center-loaded bolt design. That's fancy talk for it equalizing load distribution, so making position adjustments is now super easy. And with this clamp set you'll be able to clamp metal 7x7mm saddle rails and Specialized FACT carbon 7x9mm saddle rails.
7x7mm and 7x9mm replacement clamp set for all Specialized road seatposts equipped with a single-bolt cylindrical wedge clamp design.
New design clamp for better clamping and non-slipping of the saddle.
Compatible with: Shiv Carbon Post, S-Works Carbon Post, CG-R Carbon Post, S-Works SL Pave Carbon Post, Command Post XCP, Venge Carbon Post
Bolt Included.