---
RL141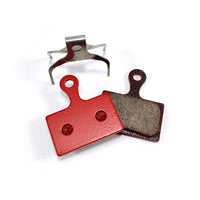 Improve your braking power, feel, and modulation with zero noise output.
Quantity of (1) will supply one caliper.
This model fits the following brakes:

Shimano BR-M9100 XTR (new application for 2020)
Shimano RS-505 / RS505 / RS805 road & gravel bike brakes
Shimano: BR-M9100, BR-R9170-F, BR-R9170-R, BR-R8070-F, BR-R8070-R, BR-R7070-F, BR-R7070-R, BR-4770-F, BR-4770-R, BR-RS805-F, BR-RS805-R, BR-RS505, BR-RS405-F, BR-RS405-R, BR-RS305, BR-U5000, BR-RX810-F, BR-RX810-R, BR-RX400-F, BR-RX400-R
Tektro HD-R510, R310/ MD-C510
TRP Hylex
Please check the exact dimensions in the accompanying image to verify your correct application.