---
1105US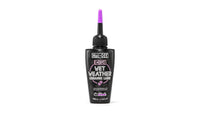 A proprietary ceramic formulation containing integral Boron Nitride compounds for low friction in wet and harsh conditions. Formulated with our unique eBike specific lubricity pack to handle the higher torque loads of an eBike drivetrain. Ideal for: Chains, cables, shifters, derailleurs & pedals.
Specifically designed for the hi-torque loads applied to an eBike chain.
Creates a ceramic coating for incredible durability and long distance performance
Contains Boron Nitride compounds
Ceramic compounds provide ultra-low friction for excellent efficiency
Waterproof - excels in wet conditions
Readily biodegradable
Ideal for road and off-road
Integral UV tracer dye - aids accurate application to ensure total protection.
Directions for use:
Fully degrease and dry chain.
Shake bottle vigorously and apply lube ensuring every part of the chain is treated. 
Ideally apply 3-4 hours before your ride.
Wipe off excess with a cloth.
Avoid contact with brakes.
Store in a cool dry place.
Keep out of the reach of children. Wear protective gloves.