---
WFPRC1S53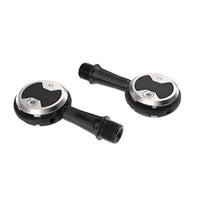 Miles of Comfort and Versatility.
The exceptional comfort and versatility of the SPEEDPLAY COMP road pedal derives from its confidence-inspiring and stable platform, offering both value and performance mile after mile for cyclists of all levels. Precise engagement, effortless release, and dual-sided entry with the Easy Tension Cleat deliver ease of use and confidence to the rider.
In the box:
Left and Right Pedals
Cleat Assembly
Screw Packet
Quick Start Guide
Important Product Information Guide
Features: 
DUAL-SIDED ENTRY
SPEEDPLAY COMP pedals' symmetrical form factor allows for dual-sided entry when clipping in. No more fumbling, fussing or kicking your pedal over; take off when the light turns green and clip in with ease.
ENHANCED WALKABILITY
The slim profile cleat and rubber texture create enhanced stability when walking in your road shoes off the bike.
INTEGRATED PROFILE
SPEEDPLAY COMP and Easy Tension Cleat create a seamless integration for a streamlined profile. The secure connection can contribute to an increase in the transfer of power, which can make it easier to attain those hard fought watts.
UNBEATABLE STACK HEIGHT
Best-in-class stack height of the SPEEDPLAY pedal decreases the amount of material between your shoe and spindle. This provides a solid connection for a more fluid transfer of power with every pedal stroke.
3-AXIS CLEAT ADJUSTABILITY
The Easy Tension Cleat can be positioned on the bottom of the shoe and adjusted fore-aft, left-right and rotationally, allowing between 0-15 degrees of float.
OPTIMIZED BIOMECHANICS
The 3-axis adjustability and slim stack height of the SPEEDPLAY Advanced Pedal System allows the rider to customize their fit on the bike with the largest range of optionality. The lower stack height can allow for increased power transfer and a decreased saddle height, which results in reduced drag.
ROTATIONAL FREE FLOAT
SPEEDPLAY pedals allow up to 15 degrees of float, allowing the heel to pivot around the center of the pedal. This range of motion in the foot, lower leg and knee increases comfort and enhances pedal efficiency.
SUPERIOR CORNERING CLEARANCE
The slim profile of the SPEEDPLAY Advanced Pedal System allows for the greatest degree of lean on the bike when riding tight corners. Pedal with confidence knowing your pedal won't strike the ground, and leave the competition in the dust.
EASY TENSION CLEAT INCLUDED
SPEEDPLAY COMP pedals include a set of Easy Tension Cleats for the most rider friendly, walkable road pedal system.
STANDARD TENSION CLEAT COMPATIBLE
SPEEDPLAY Advanced Pedal System has cross cleat compatibility. Purchase the Standard Tension Cleat, sold separately, for a tighter connection.
Specs:
Part Number: WFPRC1S53
Physical Dimensions: 3.9" x 2" x 2"
Shipping Weight: 1.25lb
Box Dimensions: 5.9" x 2" x 3.9"
Country of Origin: Vietnam
Weight: 232g per pair
Stack Height: 11.5mm (3 hole) 8.5 (4 hole)
Q Factor: 53mm
Body Material: Grivory
Spindle Material: Chromoly
Bearing Type: Triple Sealed Cartridge & Needle Bearings
Cornering Clearance: 39°
Max Rider Weight: No restriction
Cleats: Easy Tension Included
Release Angle: Micro Adjustable from 0° to 7.5°
Pedal Float: Adjustable from 0° to 15°
Cleat Fore - Aft Adjustability: Up to 13mm
Cleat Left - Right Adjustability: Up to 8mm
Walkable Cleat: Yes (adaptor included)
Note: Additional Tools Required for Assembly: #2 Philips Head Screwdriver and 8mm Allen Wrench.