---
53215-1105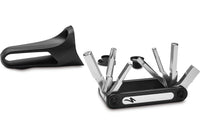 Before you find yourself on the side of the road, it's important to plan on how you'll get home. Well, look no further than our EMT Cage Mount Road tool. It conveniently attaches the emergency multi-tool to any bike with a SWAT™-compatible bottle cage for easy, no-hassle transport and storage. On the tool, you'll find a wide array of Allen keys and a Torx wrench, so you'll also be able to get out of almost any roadside jam.

Mounts to bottom of any Rib Cage II.
Features hardened CRV steel bits with anti rust coating and forged alloy frame.
Includes slotted screwdriver, 2.5, 3, 4, 5, and 6mm Allen keys, and T25 Torx.
Aero storage cradle holds tool securely without rattling.