---
00.2418.087.002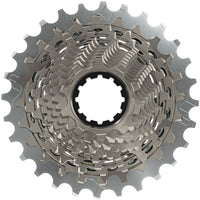 The SRAM RED AXS XG-1290 cassette is an integral part of the RED AXS drivetrain system. With a 10-tooth small cog and X-Range gearing, it progresses fluidly and quickly through a wide range of gears. It is designed specifically for wireless electronic shifting, and the one-piece design offers exceptional weight savings. The XG-1290 cassette is designed to operate with XDR driver bodies.

More gradual gear progression between cogs (at least five one-tooth jumps) while still offering a wider range
One-piece machined steel X-Dome design for weight savings
10-tooth start helps provide a wider gearing range
Designed to work with an XDR driver body
Specifications:
Color: Silver
Cassette Body Type: SRAM XDR
Drivetrain Speeds: 12
Defined Color: Silver
Cassette Cogs: 10-11-12-13-14-15-17-19-21-24-28-33
Weight: 211
Range: 10-33
*D1 refers to the generation of this component. Refer to this code to find correct spare parts.