---
00.2518.024.020 or CH1070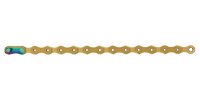 A chain that's more than the sum of its hollow pins or its fanatically shaped chamfers. Because it takes more to make a chain XX1 Eagle worthy. XX1 means uncompromising strength at an ultra-light weight with performance consistency and silky smooth, whisper-quiet operation. Now completed with our all-new Eagle Colorsystem setting the aesthetic bar and giving riders color options from Black to Gold to Rainbow, including all-new Copper.
Unique design features provide significantly improved wear resistance.
All-new Eagle Colorsystem facilitates dream-build curation.
Designed and manufactured in our European facilities, it's the quietest, strongest and most wear-resistant chain in the world.