---
T2980.60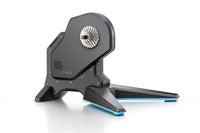 With a stronger resistance unit and heavier flywheel than its predecessor, the Garmin Tacx FLUX 2 smart trainer delivers a wide simulation range, excellent ride feel and accurate power measurement.
Train Harder, And Smarter
The Garmin Tacx Flux 2 is an advanced update to the iconic FLUX Smart trainer. The Flux 2 has been equipped with a bigger, stronger resistance unit and a heavier flywheel now weighing 7.6kg. This results in a wider simulation range with a more responsive and better ride feel which better replicates the experience of outdoor rides.
This updated version also has increased power measurement accuracy which is key to tracking your performance and progress. Not only is the Garmin Tacx Flux 2 Smart trainer accurate to within 2.5%, it is able to realistically simulate inclines up to a 16% gradient. The beefier construction also reduces vibrations and noise levels to the absolute minimum while being able to handle a maximum sprint resistance of up to 2000 watts.
The real benefit of the Flux 2 Smart trainer is in its electronics. The Flux 2 easily connects to most cycling softwares, like Zwift, TrainerRoad, Sufferfest, or Tacx's own training software, for complete immersion into the online cycling world.
Train with realistically simulated inclines up to a 16% gradient and a maximum sprint resistance of 2,000 watts
Large 7.6kg flywheel and strong resistance unit combine to replicate the experience of outdoor rides
Next-to-silent direct-drive design lets you ride without disturbing others
Sturdy design easily allows for riding full-out and standing on the pedals
Measure your power within 2.5% accuracy
Works with popular third-party training apps such as Zwift and Tacx®
Features full cycling app compatibility
Cassette not included
In The Box:
Flux 2 Smart Trainer
Quick release for road bikes and mountain bikes (5 mm)
Direct drive quick release with adapter set (142 x 12 mm and 148 x 12 mm)
1-month Tacx Premium software
1-month Zwift membership software trial